Livemeeting auf dem OCS-Server konfigurieren
Den schon auf dem Statusschirm eines Standardserver, an dem noch nichts konfiguriert wurde, zeigt, dass die Funktionen nicht aktiv sind.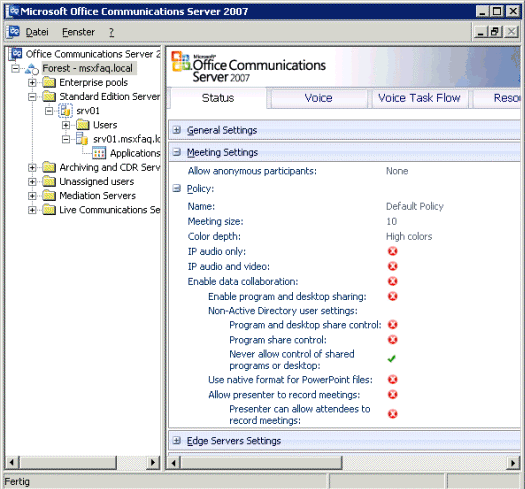 Das liegt daran, dass in den globalen Einstellungen die "Default Policy" für alle Benutzer gilt und hier die Nutzung von "Web Conferencing" deaktiviert wird.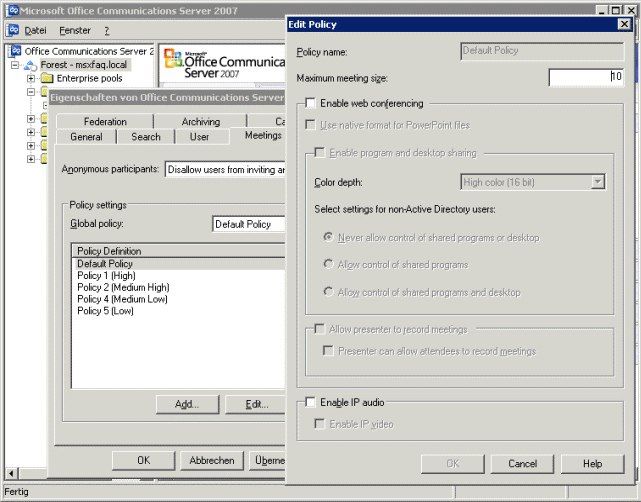 Sie können nun die Einstellungen der Default Policy ändern oder für alle Benutze eine andere Policy als Standard setzen. Wenn Sie aber die Berechtigungen für die verschiedenen Audio und Videoeinstellungen pro Anwender setzen wollen, dann sollten Sie die Einstellung verändern, dass Sie dies pro Benutzer angeben können:
Erst dann können Sie beim Benutzer individuelle Einstellungen pflegen:
Damit ist die Einrichtung auf dem Server erst einmal abgeschlossen.
Um all jeden das Leben einfacher zu machen, die schon an den Richtlinien geschraubt haben, hier die Standardeinstellungen von OCS2007 R2. (Eine Policy 3 habe ich noch nie gesehen)
Einstellung
Policy 1
(High)
Policy 2
(Med High)
Policy 4
(Med Low)
Policy 5
(Low)
Default

Max MeetingSize

100

50

35

15

10

Enable WebConf

Ja

Ja

Ja

Nein

Ja

Use Native Powerpoint

Ja

Ja

Ja

na

Ja

Program + Desktop Sharing

Ja

Ja

Ja

na

Ja

Color Depth

Truecolor 24bit

16bit

16bit

na

16bit

Non AD-Users

Program and Desktop control

Program and Desktop control

Program control

na

Program control

Allow Presenter Recording

Ja

Ja

Ja

na

Nein

Allow Attendee Recording

Ja

Ja

Nein

na

na

Enable IP Audio

Ja

Ja

Ja

Nein

Nein

Enable IP Video

Ja

Ja

Nein

na

na

Enable PSTN DialIn

Ja

Nein

Nein

na

na

PSTN Require Pascode

Nein

n.a.

n.a.

na

na
Natürlich können Sie die Default Policies löschen und eigene Richtlinien anlegen.
So schön all die neuen Funktionen sind, so schnell kommt auch die Frage nach der hierfür erforderlichen Bandbreite. Folgende Tabelle kann ihnen helfen, die Bandbreite zu ermessen.
| Verwendeter Codec | Mindestbandbreite | Maximalbandbreite |
| --- | --- | --- |
| Real-time Audio (RTA) | 24 Kbps | 45 Kbps |
| Siren | 48 Kbps | 48 Kbps |
| Real-time Video (VC-1) - CIF (352x288) | 50 Kbps | 250 Kbps |
| Real-time Video (VC-1) - VGA (640x480) | 50 Kbps | 600 Kbps |
| Real-time Video (VC-1) – HD (1280x720) | 50 Kbps | 1500 Kbps |
| Roundtable Panorama | 50 Kbps | 350 Kbps |
Bedenken Sie, dass Bandbreite nicht allein für die Qualität ausschlaggebend ist (Siehe auch QoS - Quality of Service und Silence). Die Nutzung einer HD-Verbindung ist nur bei zwei Teilnehmern möglich, aber (noch) nicht in einer Konferenz. Die Teilnahme an einer VGA oder HD-Übertragung ist mit 50 Kbps möglich aber der OCS Codec reduziert hierbei die Qualität.
Ein Stück weit können Sie die Benutzer bezüglich der Bandbreite über OCS steuern.
Eine effektive Priorisierung und Beschränkungen auf LAN und WAN-Leitungen bleibt aber eine Arbeit für die Router.
Achtung:
Auch wenn die Policy ihnen HD720p erlaubt, so muss dies zum einen ihre Kamera unterstützen als auch der Desktop "stark" genug sein. Siehe auch Video
Allein mit der Veröffentlichung über den Edge ist es aber nicht getan. Damit die Anwender auch im Meeting freigegebene Dokument einsehen können, müssen sie im DNS noch ein paar Einträge machen und auch die Konferenz Webseite z.B.: über einen Reverse Proxy freigeben.