ExOLEDB
ExOLEDB ist seit Exchange 2007 "abgekündigt", d.h. es funktioniert noch mit Exchange 2007 und die folgenden 10 Jahre aber darüber hinaus gibt es keine Zusicherung mehr.
http://blogs.technet.com/b/exchange/archive/2005/09/15/410941.aspx
Exchange 2000 und höher erlauben auf dem Server selbst auch den Zugriff über eine datenbankähnliche Schnittstelle. Die Schnittstelle ist also per Default installiert und auch erreichbar. Allerdings eben nur direkt auf dem Server. Ist nicht möglich, diese Schnittstelle über ein Netzwerk direkt anzusprechen. Auch wenn es "datenbankähnlich" ist, so fehlen ExOLEDB die entsprechenden Routinen, um die Exchange Datenbank wie ein SQL-Server anzusprechen oder per SQLDTS auf die Daten zuzugreifen.
Administratoren haben mit dieser Schnittstelle in den seltensten Fällen direkt Kontakt. Nur Exchange 2000 Administratoren können Sich vielleicht noch an das Laufwerk M: erinnern, welches den Exchange Informationsspeicher als Festplatte bereitgestellt hat. Sie finden ExOLEDB z.B.: auch noch bei den virtuellen Verzeichnissen im IIS und bei allen anderen Meldungen die "\\.\backofficestorage" enthalten.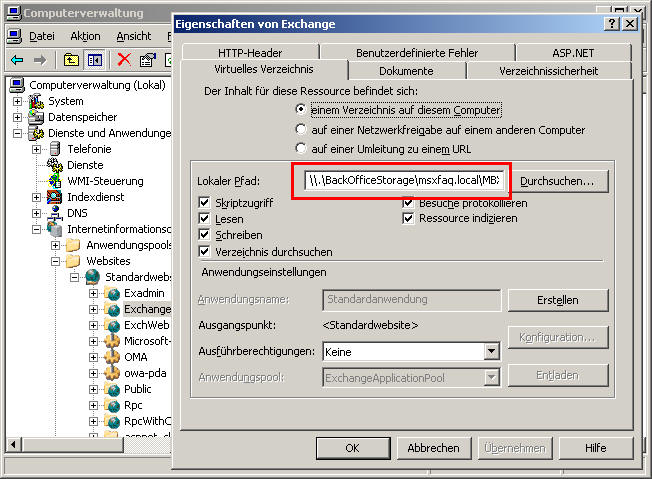 Viel mehr sehen Sie von EXOLE über grafische Schnittstellen nicht. Es ist ein Zugang für Entwickler.
Folgendes kleines Beispiel soll zeigen, wie man auf dem Server per EXOLE auf Postfächer oder öffentliche Ordner per VSCript zugreifen kann:
const adOpenIfExists = 33554432 ' 0x2000000
const adReadWrite= 3

Set oConnection = CreateObject("ADODB.Connection")
Set oTempRecord = CreateObject("ADODB.Record")
oTempRecord.Open = "http://localhost/public/"
Set oConnection = oTempRecord.ActiveConnection
oConnection.Provider = "EXOLEDB.DataSource"
set oRecords = CreateObject("ADODB.Record")
oRecords.Open "http://localhost/public/testordner", oConnection,adReadWrite, adOpenIfExists
wscript.echp "Neue Elemente in diesem Monat: "& oRecords.Count
EXOLEDB unterstützt keine Authentifizierung, d.h. der Zugriff erfolgt immer mit dem Benutzer, welcher das Skript startet.
ExOLEDB lässt sich, wie jede ordentliche Windows Anwendung, über das Eventlog und Performance Counter überwachen.
Im Eventlog sieht man eigentlich immer nur die "Gestartet" und "beendet" Events
Eine Suche nach EXOLEDB als Quelle liefert in der Regel wenige Events, so dass Fehler schnell gefunden werden können.
Event Type:       Error
Event Source:   EXOLEDB
Event Category:               Events
Event ID:             116
Computer:         SRV01
Description:
Microsoft Exchange OLEDB was unable to initialize event system correctly.
Support für store event may have been disabled. HRESULT = 0x8000ffff.
So eine Meldung ist natürlich eine mittlere Katastrophe für einen Exchange Server bzw. die E200x Storesinks. Die laufen dann nämlich nicht, was aber nicht automatisch auch die "Nichtfunktion" von EXOLEDB bedeutet.